Walnut Chest-on-Chest Dresser
Claro Walnut Chest-on-Chest

18th Century Style Highboy. Highlights matched solid walnut drawers and cast brass 18th Century replica drawer pulls

Claro Walnut Chest-on-chest

Close up of drawers, hardware and cock beading on drawer edges

Walnut Chest-on-chest Crown

Emphasis on Goose Neck Crown and three turned, fluted urns with with carved flames
Walnut Dresser
Claro Walnut Dresser

Three drawer 18th Century style Claro Walnut dresser with locks and cast brass reproduction hardware. Includes paneled back for open room display and recessed desk top.

Back of Walnut Dresser

Detail of finely crafted three panel back of dresser. Exquisitely figured wood was chosen to show off this piece.

Handle Hardware Detail

Matching drawer fronts of highly figured walnut showing off cock beading on drawer perimeter and cast brass hardware.

Walnut Dresser

Side view shows joinery detail of hand cut dovetails.

Walnut Dresser

Close up of back panel showing rare feathered grain figuring from a walnut crotch.

Walnut Dresser

Back view

Walnut Dresser

Exposed recessed desk top made from a walnut crotch.

Walnut Dresser

Gorgeous view of dresser top showing the effects of light refraction when combining two book matched wood slabs.
Mahogany 18th Century Style Highboy
Genuine Mahogany Highboy

90" X 50" 20" highboy made of solid genuine mahogany. This front view shows booked matched door panels and four staggered drawer fronts of matching grained wood that gives the piece richness and character.

Genuine Mahogany Highboy

Another front profile with the doors open revealing six more drawers. Note the scroll work on the lower skirt.

Genuine Mahogany Highboy

Closeup of the beautiful drawer fronts and hardware and exposing the interior oak drawer sides and bottoms
Shaker Style Linen Press in Cherry
Shaker Linen Press in Cherry
Media Center Designed as a Shaker Linen Press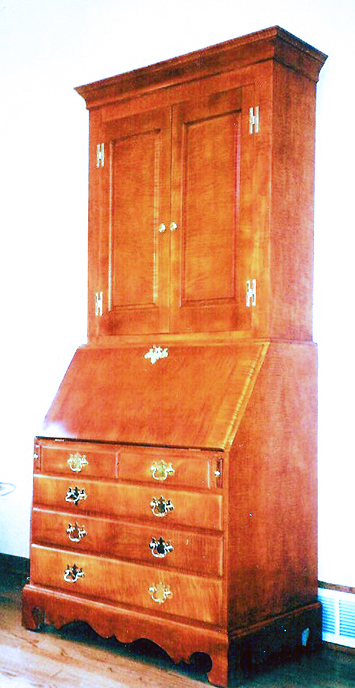 Curly Maple Secretary
90" X 38" X 24" Curly Maple Secretary with 4 graduated drawers and lots of cubby holes. Hardware is cast brass copied from originals from the period.
Curly Maple Secretary
Genuine Mahogany Highboy
Detail of hardware and fluted column